Choosing the perfect sports decor for man caves sounds like the dream task for a sports fan, but it can end up being more difficult than it seems. If you do not yet have an idea of what you would like to have in your sports man cave and how you would like it to function, then you will have trouble picking decorations for it.
Whether you want a place to watch games on the big screen, a room to work out in, or just a space to store your sports memorabilia, a sports man cave is a great idea to add to your home.
Luckily, creating a sports man cave is a feasible task that pays off well. Keep reading to find out how you can pick the perfect sports décor for man caves, and how to create your dream sports man cave.
How to Create a Sports Man Cave
Creating a sports man cave can be as big or as little of a project as you want it to be. It could be as simple as setting up some sports memorabilia in a spare room of your house, or you can make a more elaborate recreation space with an entertainment system and a bar.
There are a number of steps to consider when creating your sports man cave.
Choose Your Location
The first thing to consider when creating a sports man cave is where you want to place it in your house. Whether you set up your sports man cave in the basement, garage, shed, or a spare room in your home, you will want to make sure that the space you choose is equipped to handle everything you want to have in your sports man cave. On the other hand, you may not have a lot of options when it comes to location, so the location you choose may determine what you can actually have in your man cave.
Here are some factors to consider when choosing your space for your sports man cave:
Insulation of the walls
Flooring
Ceiling
Electrical and internet wiring (if you plan on having a TV)
Plumbing (especially if you want to add a wet bar)
If some of these elements are not up to standard in your chosen space, you can make a few alterations to the space to make it more suitable for your intended sports man cave. However, depending on the location, it could be a hefty investment and delay the creation of your man cave. It could be as simple as painting the walls, or as complicated as adding electrical.
Determine the space that you want to use for your man cave, then determine your budget and timeline for preparing that space.
Decide Whether You Want a Bar
Bars are very popular additions to man caves, and they're especially popular amongst sports man caves. They give your man cave that sports bar feel, and there is nothing better than having quick access to a cold beer while watching the big game.
If you decide to have a bar in your sports man cave, you may have to convert your space, depending on whether you want a wet bar or a dry bar. A wet bar will require the installation of a sink and therefore modification to your plumbing, but it can also be more beneficial as you would not have to make trips out of the room to rinse your glass. Otherwise, having a beer fridge or mini fridge in your sports man cave may be sufficient in terms of having easy access to cold drinks.
Having a bar in your sports man cave will also give you more ideas when it comes to decorating the space. You can give your man cave a sports bar theme and add other items, such as a dart board or sports team memorabilia.
Decide What You Want in It
Once you have determined the location of your new sports man cave and have thoroughly prepared it, you will want to start painting a more detailed picture of what you want it to look like. This includes determining what items you want to include in your sports room, if you haven't already, and considering how you want to decorate it.
The items you include in your man cave will mainly depend on how you plan on using your sports man cave. Will it just be a sports-themed room where you chill and hang out? Or will it be a room where you and your buddies actively watch the big game? Will you be using the room as a home gym?
If you plan on keeping your man cave as a sports-themed room, then the emphasis should be on the comfort of the room and the décor. If you intend on using your sports man cave to actually watch sports, and your sports room is big enough, then the main focus of the room will most likely be the TV. If your sports man cave will double as a home gym, you will want to make sure you have enough room to keep some weights and cardio equipment, and determine how much you want the equipment to add to your décor.
Large items to consider adding to your sports man cave list include:
TV
Couch
Weights
Shelves
Sound system
Bar stools
Desk and chair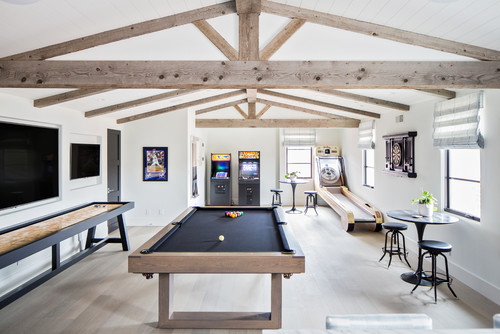 If you plan on using your man cave as a place to watch games, a TV should be one of the top things on your man cave list. The size of the TV depends on how much space you have in your man cave, but the general idea is that the bigger the TV, the better the viewing experience. If you really want to splurge, you may also want to consider adding a sound system for surround sound.
If you plan on using your sports man cave as a home gym, gym equipment should be at the top of your list. Whether you lift weights, enjoy cardio on a machine, or both, you will want to make sure that you have enough space for the equipment in your sports man cave.
No matter what you use it for, you will also need seating. If you plan on regularly having your friends over, then you will want to opt for a sofa that is big enough to entertain multiple people. If you also have a bar in your man cave, you will need bar stools as well. Even if your man cave is primarily a workout space, make sure that, at a minimum, you have a weight bench for varied workouts.
Choose Your Theme
Once you know what main items you want in your man cave, you can choose the theme. You don't necessarily need a theme for your man cave, but having one gives you direction when it comes to choosing decorations. You can also combine themes to make the space more personal and unique.
Some great sports man cave themes include: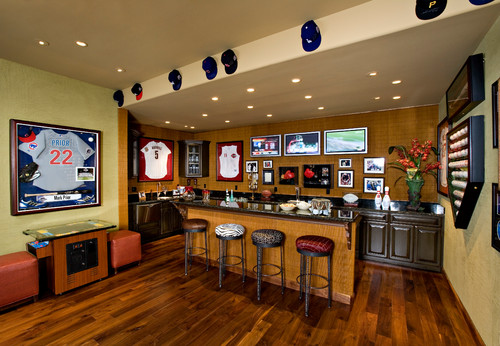 Sports Bar: This is a classic man cave theme. Depending on what you include in your man cave, your space may already include most of the items needed for this theme, such as a TV. To give your sports man cave a very sports bar feel, consider adding more than one TV, with each facing a separate area of the room.

Don't forget the "bar" part of a sports bar. You may be able to get away with a beer fridge, but it is rewarding to have a more extensive bar setup for your hard liquor and to really have the sports bar theme come to life. Consider having draft beer for the full sports bar experience!
This theme allows you to choose from every sport in the world. You are not just limited to baseball or basketball. This makes for a very interesting room and a lot easier to decorate.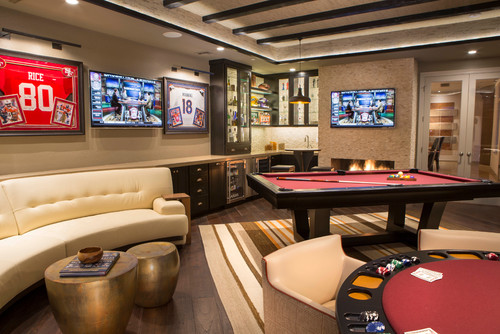 Sports Arena: Your sports man cave does not have to be dedicated to watching sports – it could also be dedicated to playing them. You can add gaming equipment such as a pool table, foosball table, or dart board to make your sports man cave an interactive space to enjoy activities with your friends.
University: Go all out for your sports man cave decorating it with memorabilia and championship banners your university has one in all of the sports it dominates in. Showcase all the photos you have taken over the years tailgating and attending games.

If you went to the university take photos of your old dorm building and your favorite places you hung out.
Attendance at that university is not a prerequisite for this theme just your love of the University! In some places, their University is their Professional team!
History Sports Cave: This theme could be filled like the Baseball Hall of Fame in Cooperstown. Fill it with old pictures of players in any sport in black and white. Maybe use photos of only the record breakers or the ones that changed the game.

If you ever hear of a stadium being torn down sometimes they will auction off old seats or pieces of the stadium. Be on the lookout for those because they can add a very unique piece to your sports cave.
Decorate
Once you have finished setting up your sports man cave, you are now ready to get to the fun part: decorating your new space!
Sports Décor Ideas
There are many options to choose from when considering sports décor for man caves. What you choose largely depends on your interests, what you might already have available, and your décor taste.
The following are some popular ideas for decorating sports man caves:
Team colors: Are you obsessed with your favorite sports team? Consider using those colors to inspire the décor of your sports man cave. Decorating your sports man cave with your team's colors sets the mood of the room and makes your sports interest apparent to anyone who enters your man cave.
Display Your Collection: A sports man cave is the perfect opportunity to display your collection of sports collectibles. There are a variety of ways to show off your collection while keeping your items safe: build specialty shelves, frame them, or even keep them in a display glass box.
Sports Jerseys: Hanging the jerseys of your favorite teams and players is a quick way to turn any room into a sports lover's man cave.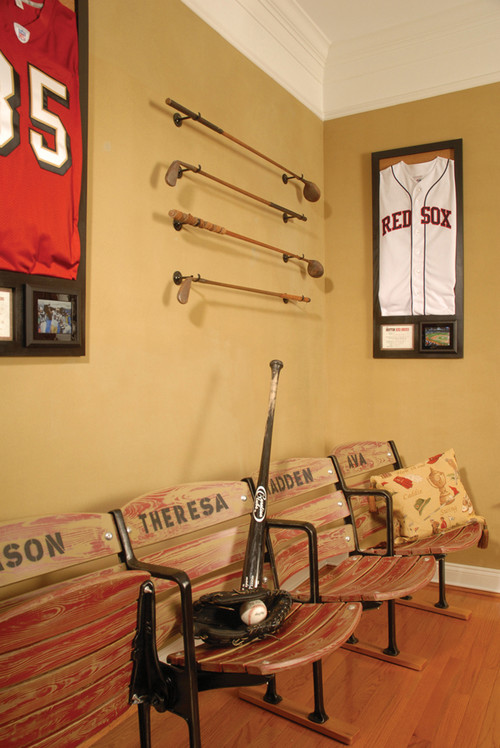 Posters: Decorating your sports man cave with sports-related posters is an obvious choice when it comes to decorating options. This can be as simple as adding posters of your favorite athletes or the logo of your favorite sports team. If you want to make the posters in your sports room more captivating, consider choosing vintage sports posters.
Art: If you are a fan of sports and also have an appreciation for art, you can easily have both of those interests reflected in your sports man cave by decorating it with sports-themed artwork.
Sports Gear: If you don't have any signed sports gear or uniforms from your favorite player don't sweat it. A baseball bat, golf clubs, or even a sports jersey bought from the store can be made to look great hanging up. It will give your room a great theme and you won't have to spend so much. But if you are able to get that Lebron James or Mike Trout signed jersey it makes the room even better! You can even put up your kid's gear and give them a trophy section as they progress in sports. Your kids will love it.
Sports Decor For Man Caves Wrap Up!
Your sports man cave will definitely be your favorite spot in the house. Decorating sports man caves is an activity that many look forward to, but before getting to that part, you must first create the ideal sports man cave. Once you understand what you will require to create your ideal man cave, you will have a better idea of how to decorate it and be creative!
After reading this do not feel the pressure to have to get all the sports decor for your man caves right away. The top sports man caves take time to build. Your favorite team didn't win a championship in one season. It takes time to build a winner!
For more ideas for your sports man cave, check out our article on Awesome Basketball Man Cave Ideas.