Man caves. Most people view man caves as a place to get away from it all, but did you know there's evidence to support the theory that man caves are actually beneficial to your mental health?
According to University of Texas at Austin psychology professor Sam Gosling, author of Snoop: What Your Stuff Says About You, "Space is very important for regulating emotions."
Every man needs his own space where he can rejuvenate, regroup, and maybe kick back with a few friends after a hard day at work. Author Todd Stahl even wrote a book on the subject, titled 40 Days in the Man Cave.
Whether you want to build a man cave for the mental health benefits or simply want to have a relaxing space to watch TV with your friends, we'll walk you through how to turn a garage into a man cave.
Getting Started
You'll probably be excited and ready to hit the ground running once you've decided to convert your garage into a man cave, but there's planning to be done. There are a few things you should ask yourself before you get started.
Is my garage insulated?
Many garages aren't insulated, leaving your future man cave's internal temperature in the hands of the weather. Depending on your garage's size and your personal needs, you might be able to get by using a fan in the summer and a space heater in the winter, but you might want to opt for insulation if you live in an area where the winters are bitingly cold.
Believe it or not, this is especially true if your garage is already heated. Cracks and crevices let the heat out, so you have to crank it up higher to maintain a comfortable temperature, leading to expensive utility bills during the winter months. Many garages have drywall, but there are also some other alternatives.
Where are the outlets located?
If you want to set up a TV or refrigerator in your garage, locating the outlets should be your first priority. The location of your outlets will determine the layout of your man cave. In some cases, you may need an electrician's help if you want to add more wiring.
Both the NEC (National Electric Code) and IRC (International Residential Code) require the installation of GFCI (Ground Fault Circuit Interrupters) outlets in garages.
Ground faults, which can lead to electrocution, can be caused by excess moisture, dust, and old electrical appliances stored in the garage. Always contact a professional electrician if you're tampering with the outlets in a garage.
How much help will I need?
Technically speaking, nothing is stopping you from turning your garage into a man cave all on your own (unless you need wiring installed), but it will go a lot faster if you can round up a few buddies to help out.
You'll have to take their schedules into account if you're relying on help from your friends. Aim for a long weekend or a time when everyone is free if you want to get everything done in a short amount of time. If you're working little by little, this will be less of a concern.
If the scope of the job is a little out of your comfort zone or you just want a little additional help, you could also hire a handyman to help out with the project.
What's my budget?
Taking your budget into account now will benefit you in the long run. There are ways to save money while turning your garage into a man cave. Don't be afraid to ask around; you may know someone who has spare insulation, drywall materials, or paint from a past DIY project.
If there are items you really want and currently can't afford, you can either save up for them or look for them used on Let Go, Craigslist, or Facebook Marketplace. Turning your garage into a man cave doesn't have to cost you an arm and a leg if you're willing to get a little thrifty.
You can find refrigerators without working freezers for a steal — and sometimes free. As long as the refrigerator's primary cooling unit works, you can keep your beer cold without breaking the bank on a new fridge.
Tackle any major repairs or upgrades first. You can focus on decorating your man cave to your taste after you've built a solid foundation.
What do I really need?
If you want to have your man cave in the least amount of time possible, take into account what you really need to have. You might be able to nab a few items from your buddies or reuse something you already own.
You can always refinish and paint an old table or add a slipcover to an old couch to save some coin and give a preexisting item a new lease on life. Use that old rug you've been keeping in storage in your man cave, so you don't have to walk on cold concrete.
(Your man cave is also a great place to move all the items you think are comfortable, but other family members might describe as boring or outdated.)
Unless you don't need to make any improvements to your garage, turning it into an amazing man cave where you can relax and collect your thoughts isn't going to be an overnight process. That being said, we think you'll find it was well worth the effort at the end of the day.
A Step by Step Guide to Turning Your Garage into a Man Cave
Now that we've been over some of the more practical things to keep in mind before you get started on your garage renovation, it's time to learn how to turn a garage into a man cave. We'll show you how to do it step by step.
Step 1: Clean Out Your Garage
Because most of us use our garage as a storage space, you might have a lot of work to do. Sort through your items to see what you need to keep and what you can get rid of. You can sell anything you don't need and recoup some of the money you spend converting your garage. It's a win-win.
Give the place a thorough cleaning to get rid of any dust, cobwebs, or creepy-crawlies that might be lurking under items you've had stored for several years.
Step 2: Repair Work
Once you've cleared everything out and cleaned up a bit, it's time to do any maintenance work that needs to be done. Now is a good time to install your insulation, redo the drywall, and have any electrical work done.
Insulating your garage can be pricey, but if you're going to spend a lot of time in your man cave, it's a worthwhile investment.
Pro tip: Don't forget to insulate the garage door, or you'll lose heat in the winter and cool air in the summer. Fortunately, garage door insulation kits are available for purchase at most home improvement centers, and they're easy to use.
Step 3: Paint Your Garage
Most garages have bare, white or off-white walls, and while that's fine for a garage, it's not the most inviting — or interesting — of colors for a man cave. This is your chance to test out colors you've always wanted to experiment with.
If you want to use your space to relax, painting it flaming orange or bright red might not be the best idea. In fact, a University of Minnesota study found the color of a room impacts stress perception. Colors like pale gray and any blue or green shade have been shown to promote relaxation and may even help reduce anxiety.
Step 4: Install Some Lighting
While the majority of garages have one overhead light, it may not provide adequate illumination for your needs. You can use standing floor lamps, wall sconces, or recessed lighting to create a sense of style and cohesion in your man cave. If you incorporate a desk in your man cave, desk lamps and brass floor lamps create a nostalgic, academic feel.
For an urban, industrial look, you can simply hang light bulbs from the ceiling. (This is also one of the least expensive options.) Always take the proper precautions when you're working with electrical wiring, and when in doubt, call in the help of a professional.
Step 5: Find Your Flooring
Unless you're going for an industrial vibe, bare concrete floors won't do anything to set the mood in your man cave. Adding a new look to your floors can really bring a space together, but carpet can be a risky choice even if you've insulated your garage door due to inclement weather.
We recommend using area rugs to break up the space — as long as they aren't near the garage door — or installing new flooring. It doesn't have to be anything fancy or expensive. Sealing and painting the floor protects the concrete and creates a whole new look for your man cave.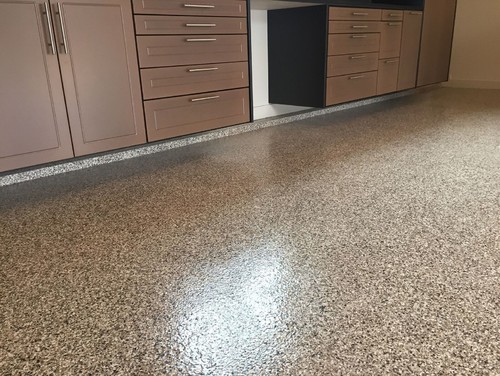 Step 6: Decorate Your Man Cave
Before you bring in a refrigerator (that's the next step), we recommend decorating your man cave. This will save you from having to squeeze a sectional or chair past your fridge. If you plan on being a solitary man cave dweller, then a recliner, an end table, and maybe a small coffee table should suffice.
However, if you want to have ample seating for your friends, you might want to invest in a sectional. You can pick them up for a bargain price online, or maybe one of your friends has an old couch in storage they're willing to donate to the cause.
Step 7: Bring in a Fridge
Chances are good you'll want to stay in your man cave once you've retreated there, so you'll want to install a fridge for the sake of convenience. (It's also a great way to become the most popular guy on the block if that's the kind of thing you're interested in.)
Mini-fridges are inexpensive and readily available for purchase at most big box stores and home improvement centers. Look on Craigslist or Facebook Marketplace if you have the space for something larger but don't want to spend a fortune on a new fridge.
Step 8: Build a Bar
If you have enough space for it, you can build your own bar in your man cave. But if you're running out of room, displaying your bottles on a few shelves and using another shelf as your bar top while you mix drinks is a great option.
For those who don't care for alcohol, this would be a good place to stash an electric kettle or a small coffee maker. It's your man cave, so you can turn it into a bar or a coffee house. The choice is yours.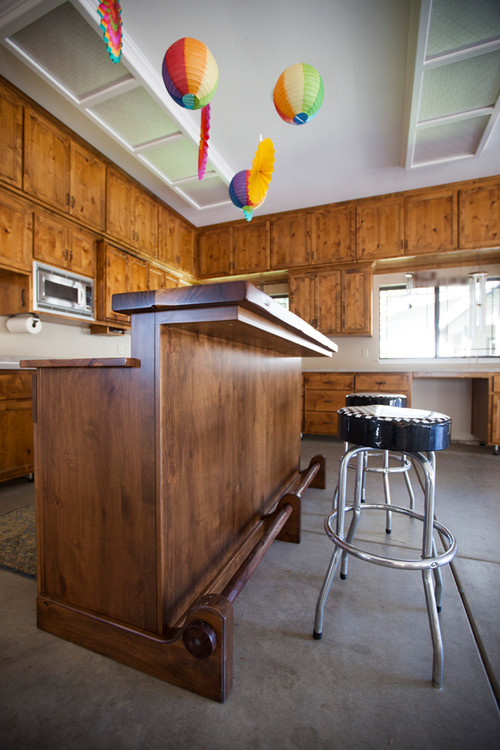 Step 9: Add Some Character
Now is a great time to hang up your sports memorabilia, awards, diplomas, old photos, and movie posters. If you've ever bickered with your spouse about having a life-size cardboard cutout of Chewbacca in your home, now you have the perfect place for it.
If you want something more engaging, set up a dart board on the wall so you can blow off some steam after work. Adding unique touches that show off your personality and sense of humor is the best way to make your man cave really feel like it's your space.
Step 10: Protect Your Man Cave
If you have a top-of-the-line iMac, an autographed football, or a big screen TV in your man cave, you'll want to boost your security. Garage door locks aren't expensive, and you'll feel better knowing your valuables are well protected.
You might need additional deadbolts if your garage has more than one entry point, and if you have something priceless in your man cave, it might not be a bad idea to install video surveillance. (Using a motion-activated pet cam is an inexpensive option that will allow you to monitor your space on your phone.)
Conclusion
Man caves are a fantastic home away from home, and your garage is the perfect place to create a space where you can get away from it all after a hard day. While turning your garage into a man cave takes time, effort, and money, the end result is worth more than money can buy.
When you get that garage man cave done tip one back for us!