If you're a basketball fan, you've probably dreamed of having a basketball court in your home so you can shoot hoops anytime you want. And as you can see below, it is doable and has been done – sometimes you just have to get creative.  But even if you don't have the space or budget for a basketball court, you can get a basketball arcade game or a full sports simulator to shoot hoops in your man cave.
If you're thinking about creating your own basketball man cave, check out the pictures below for inspiration. Remember that every man cave is different, so take these ideas and make them your own.
1. Basketball Court
Let's just get right to it. If you have the money, a large enough space, and you love the game enough, why not just make your entire man cave a basketball court? This homeowner in Salt Lake City did just that.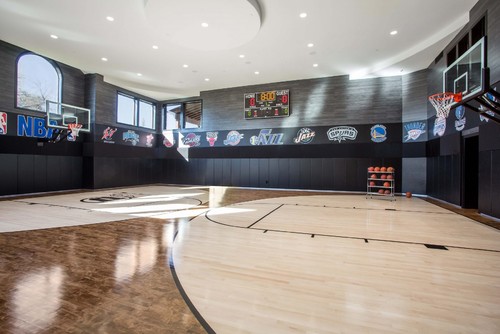 2. Basketball Quarter Court
If you don't have the room or the budget for a full court, you still may be able to pull off a smaller court. This court in Chicago is only a quarter court, but it still allows the homeowner to shoot some hoops anytime he wants. And while we're in Chicago, why not check out Michael Jordan's Chicago home complete with it's own full basketball court. At the time of this writing, the home is for sale. If you have an extra $15 million laying around, skip building your own court and move into MJ's 9 bed, 19 bath estate.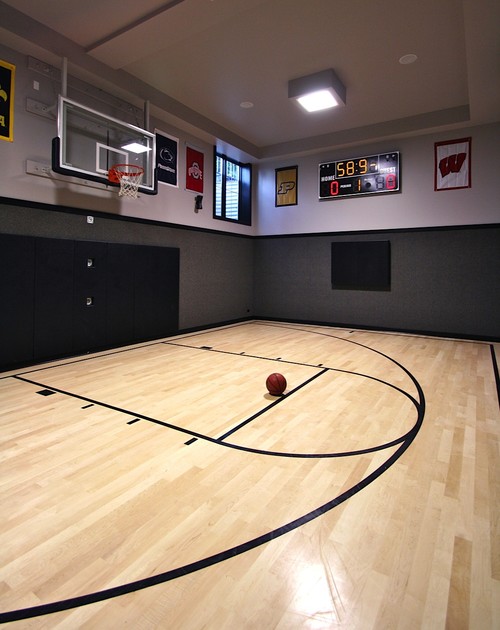 3. Basketball Arcade Game
Ok, let's get back to reality. Maybe a real basketball gym isn't in the cards, but you can still shoot hoops on a basketball arcade game at home. Whether you have a man cave dedicated to basketball or just want to add a new arcade game, this popular option will add some fun to any space. We recommend the Pop-A-Shot, but you can also read our full reviews of the best basketball arcade games.
4. Sports Simulator
Another option for shooting hoops without installing a basketball court is a sports simulator. The Full Swing Elite Sports Simulator from Sports Entertainment Specialists (SES) allows you to play all the major sports as well as games like bocce ball and zombie dodgeball. Contact SES for more information or to have them come out and design a simulator customized to your room.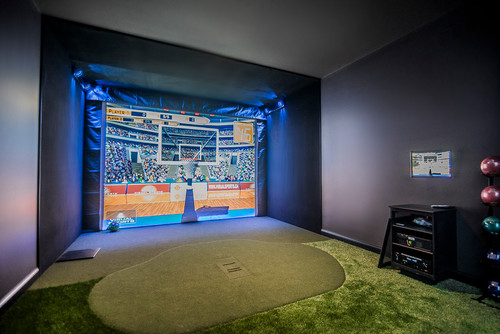 5. Framed Jerseys Galore
Surround yourself with greats like this fan in New York did in his basketball man cave. Framed jerseys are a popular way to add some décor to your walls. For more ideas on how to hang your own favorite basketball jerseys up on the wall, check out our article 3 Easy Ways to Display Your Sports Jerseys.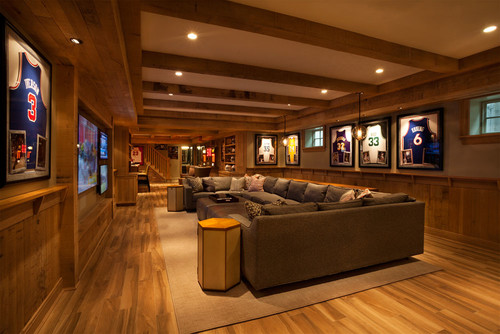 6. Media Room for March Madness
This room is technically a kitchen in a house in Dallas, but can you imagine hosting March Madness or a fantasy basketball draft here? With multiple TV's and a full kitchen, you could watch all the games and never have to leave.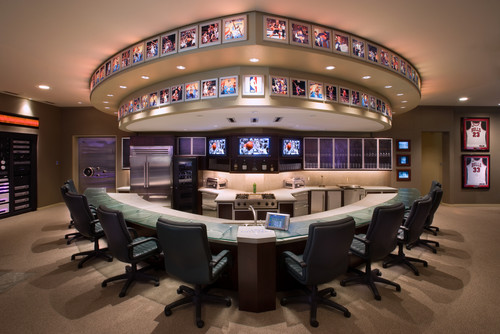 7. Display Your Basketball Cards
The holy grail of basketball cards is a gem mint 10 1986 Fleer Michael Jordan rookie card. In fact, according to Beckett,  a pair of this exact card just sold for a record $738,000 each! If you happen to have a Jordan rookie card, it might be best to keep it out of sight. And if you don't have an extra million dollars laying around, but you still want a Jordan rookie card for your man cave? There are reprints that look just as good that can be had for under $10. Putting your trading cards on display is a great alternative to hanging signs and photos.
8. Embedded TV Over Bar
If you have a bar in your man cave, you can embed your TV into the wall or cabinets above it to give the room a sports bar look and feel.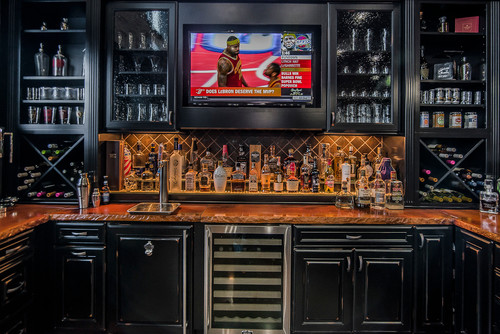 9. Decorative Regulation Basketball Hoop
Even if your man cave isn't actually big enough to shoot a basketball, putting up a full size basketball hoop still makes for a pretty cool wall decoration.
10. Barn Basketball Court
I just can't stop thinking about having my own basketball court. If you can't find a way to make a court part of your house, you can put it out back in a barn. This homeowner in Pennsylvania converted a barn into a basketball and volleyball court.
11. Basketball Court No-No
If you are serious about making a basketball court a part of your man cave, please do it right. Don't do this. This seems like a guy just wanted to be able to say, "I have a basketball court in my house." Maybe he can technically say that, but no one is shooting a basketball in this room. If you add some couches and a TV or two, this does look like it could be a cool man cave, though.
12. NBA Jam Arcade Game
13. Double TV Mount
14. Custom Hand Painted Basketball Mural
15. Counter Seating
This basement man cave in Raleigh, NC does it right. With counter seating facing the projector screen TV, guests of this man cave can watch the game without fumbling with a paper plate full of food in their lap. If you are planning on watching sports in your man cave, you are probably going to be eating while you watch. It's not something most people think about, but having a set up that allows you to eat comfortably can make a big difference.
16. Custom Basketball Man Cave Neon Bar Sign
This basketball man cave sign can be customized with any name and year. It's a great option if you are going for a sports bar look. A personalized neon sign also makes a great gift idea that can really add some pop to any home bar.
17. Arena Style JumboTron
This game room in Los Angeles features a custom JumboTron style scoreboard as a focal point in the middle of the room. With flat screen TV's facing each direction, guests will never miss a minute of the action. If you are looking for a piece of basketball man cave décor that will blow your friends away, this is it.
18. Basketball Hoop Coffee Table
A basketball hoop coffee table is a unique piece of furniture that can round out the look of your room and set it apart from the others. There are several different options for a table like this. Most are DIY projects using old backboard and rims, but you can also buy one from Amazon.