Batman made his first appearance in the May 1939 issue of Detective Comics. He would get his own comic book line a year later with the release of Batman #1 in March of 1940. However, it wasn't until 1944 that the Batcave made it's debut. Ever since then, boys and men alike have dreamed of having their very own Batcave.
If you have ever thought about what it would be like to have a Batcave of your own, check out these Batman man cave ideas that would also make awesome Batman gifts for men.
Update: DC launched an Everything for Your Batcave Store at Amazon featuring exclusive Batman products, limited-edition merch, and more.
1. Batcave Home Theatre
This Batman superfan in Vancouver decided to go full Batcave for his home theatre. From Adam West's 1966 portrayal of the Caped Crusader to The Dark Knight to Lego Batman, there's not a single Batman movie that I wouldn't watch in this home theatre.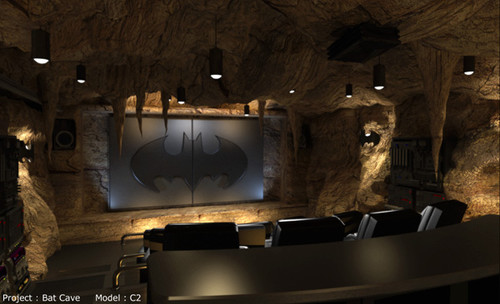 2. Unique Joker and Batman Art
From artist Nicholas Hernandez, these custom pieces of contemporary mixed media art portray Batman and a Heath Ledger inspired Joker on large wood panels. How awesome would these look on the walls of your man cave?
Nick is an amazing artist with a unique style. You can check out more of his art and commission your own custom piece on his website.
3. Batcave Man Cave Sign
Every Batman man cave needs a Batcave sign. This metal sign reads "Welcome to the Batcave, Justice Served Daily" and would go perfectly on the door to your man cave or up on the walls.
4. Vintage Batman Comic Books
This February 1940 issue of Detective Comics featuring "The Batman" recently sold on eBay for $7,656.58. If you have any old Batman comics laying around, you may want to get them graded and protected before you put them on display. This comic book was graded by CBCS Comics which is the comic book arm of the more well known sports card price guide publisher Beckett Media.
5. Batmobile Scale Model
The original 1939 Batmobile was actually a rather plain looking red car. It has undergone many transformations since then, but has always been an important crime-fighting tool. This Batmobile model kit is a 1/25 scale replica of the vehicle from the 1989 Batman movie. This version of the car is consistently ranked as one of the coolest versions of the Batmobile.
Use the kit to build an exact replica of the Batmobile driven by Michael Keaton in the 1989 film and put it on display in your man cave.
6. Life Size Batman and Joker Statues
This theatre room in Chicago is a more toned down version of the first Batcave home theatre on our list. However, this one boasts realistic looking life size statues of Batman and Joker on either side of the projector screen. It also has the Batman logo inlayed into the ceiling in the middle of the room.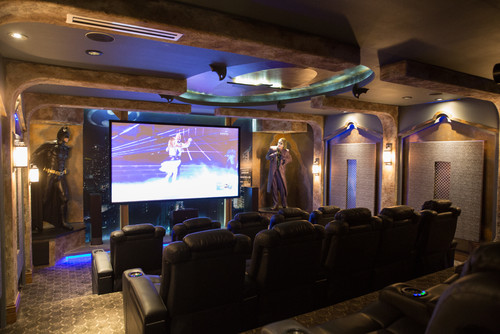 7. Red Emergency Batphone
From the 1960's TV series, the Batphone is an emergency telephone with a direct line to the Gotham City Police Department. There were actually 3 Batphones – one in the Batcave, one on Bruce Wayne's office desk in Wayne Manor, and one at GCPD headquarters.
You can hook up this real working landline phone to a phone line and make it more than just a display piece. If you're looking for a unique gift for a Batman fan, there's a good chance this is just the item they need to complete their Batcave.
8. Batman Tumbler Vehicle
If you have Jay Leno money, maybe you can add Batman's Tumbler to your man cave garage. If you ever wondered if the Batman Tumbler is a real car, the answer is yes. You can check out the actual vehicle that made appearances in Batman Begins, The Dark Knight, and The Dark Knight Rises on an episode of Jay Leno's Garage.
While Jay doesn't get to keep the car and the one from the movies isn't for sale, working drivable replicas do go up for sale from time to time.
9. The Dark Knight Rises Movie Poster
The 2012 The Dark Knight Rises film is the highest grossing Batman movie. It is one of less than 50 films ever to gross over $1 billion. Worldwide, the movie brought in $1.084 billion, just surpassing it's own prequel The Dark Knight which also sold over $1 billion in tickets at the box office.
This official movie poster featuring Christian Bale as the Dark Knight is a must have for any fan of the movie.
10. Harley Quinn, Poison Ivy, and Catwoman Canvas Poster
Show some love for the female characters from Batman. Featuring Harley Quinn, Poison Ivy, and Catwoman, this sexy 3 panel canvas is perfect for a Batman themed man cave.
11. Batman Action Figures
Fill up your shelves with action figures of some of your favorite characters. This set of five includes Dark Suit Batman, Grey Suit Batman, Robin, The Joker and Nightwing. Toys are for kids, action figures are for men.
12. Custom Batman Artwork
The piece of artwork below titled The King of DC was created by Filipino artist Sam DelaTorre. While this was a custom piece commissioned by a customer, you can commission your own custom piece of artwork from Sam at surprisingly affordable prices.
13. Batman Coffee Mug
Start your morning off right by having a cup of coffee in your Batmug while sitting in your Batman man cave. The mug is all black, has an embossed Bat logo, and is officially licensed by DC Comics.

14. 1966 Batman Trading Cards
In January 1966 the Batman TV series premiered on ABC and was instantly a hit. Looking to capitalize on the cultural phenomenon the Topps trading card company acquired the license to produce and distribute Batman cards.
Some of the highly graded cards sell for hundreds or even thousands of dollars. However, if you are just looking for some cards to display in your man cave, you can find lower priced options of the 1966 cards on eBay.
15. Batcave Basement
This homeowner in Milwaukee perfectly captures the feel of the Batcave in his man cave basement. The other half of the basement is dedicated to Superman's lair including a full bar. I'm just guessing, but this guy is probably a fan of Batman v Superman.
See the other half of the basement in our Superman Man Cave article.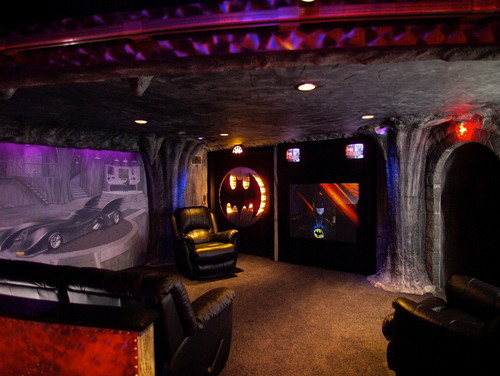 16. DIY Batman Wall Lamp
If you're handy with a jigsaw, you can make some pretty cool stuff. Instructables user dmilesson put together a step by step guide on how to make the wall lamp below. Another user pointed out that if you don't want to have to solder the LED lights together, you can use Bitfenix Alchemy LED strips.
17. Alfred Pennyworth Collector Action Figure
Alfred Thaddeus Crane Pennyworth is one of the most underrated Batman characters and I'm glad to see he has his own action figure. First appearing in Batman #16 comic book in April 1943, Alfred has become a fan favorite despite being a butler with no superpowers.
Typically thought of as Batman's moral compass, in one story line, Alfred sacrificed his life to save Batman and Robin. When he's revived he becomes a villain with superhuman strength named Outsider who is hell bent on getting back on the men who killed him – Batman and Robin.
18. The Real Bat Signal
Unlike Batman's Tumbler vehicle which was not for sale, the actual Bat Signal used in Batman v Superman: Dawn of Justice went up for sale in 2017. The movie prop, a modified WWII searchlight, was leased to Warner Bros for use in the movie.
After filming, the searchlight was returned and found it's way to eBay with a price tag of $65,000. As far as I can tell, there were no takers. If you're feeling lucky you can reach out to the eBay seller militaryvehicleweb and put in an offer.
19. Batman Villains Canvas Art
Keep your friends close, and your enemies closer. When it comes to Batman, the villains are just as popular as the heroes. Keep an eye on some the franchise's most popular villains with this canvas artwork. The piece features Penguin, Bane, Poison Ivy, Two-Face, Mr. Freeze, Riddler, Joker, and Harley Quinn playing poker.
20. Robin Signed Picture
The Boy Wonder has seemingly fallen out of the story in recent years, but he still deserves a place in your Batman man cave. This 8×10 photo features the signature of Burt Ward who played Robin in the 1960's TV series.
There are a lot of reprint reproduction signatures out there, but this one is the real deal and comes with a certificate of authenticity.
Batman Man Cave Ideas
When you say Batman man cave, the first thing that jumps to everyone's mind is the Batcave. And while having your very own Batcave would be undoubtedly cool, there are plenty of other ways to make a Batman themed man cave. Whether you are looking to improve your own man cave or are looking for unique Batman gifts for the men in your life, I hope this list of Batman man cave ideas gave you some inspiration. NA NA NA NA BATMAN!
See which Batman movie made our list of manliest movies.