Ok, so you're closer to Clark Kent than you are Superman. But just because you can't leap tall buildings in a single bound doesn't mean you can't have an awesome lair of your own. If you want your very own Fortress of Solitude, check out these 20 Superman man cave ideas with pictures.
1. Superman Coffee Maker and Mug
Start your day off right by making your coffee in your man cave with this Superman coffee maker. The single serve coffee maker also comes with a Superman logo coffee mug. Even superheroes need their caffeine.
2. Superman Home Bar
End your day right by having a beer with Superman. The Metropolis Sky Bar in this basement takes its name from Superman's hometown Metropolis. The city has been placed in several Northeastern United States locations throughout the years including New York and Delaware, but this homeowner in Milwaukee decided to move it to the Midwest. With a life size Superman statue and a fully stocked bar, it doesn't matter where it's located – I want in.
This basement man cave was also featured in our Batman man cave article because the owner made the other half of the basement in to a Batcave.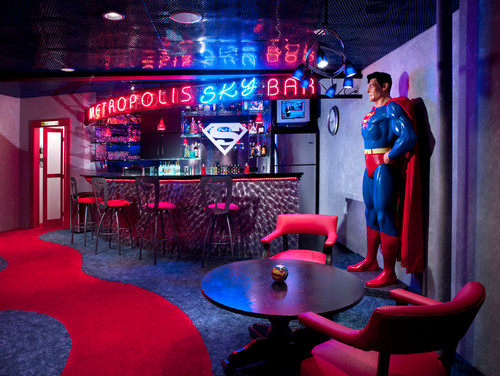 3. Superman Sculpture Statue
It turns out that Superman and Batman don't always mix so well. This Superman sculpture from artist Titinun Naksud and My Hero Studios is incredibly detailed. It features Superman standing on a pile of skulls holding Batman's cowl. This is not an action figure that you can just go get from the store or even Amazon. If you want something truly unique for your collection, you'll have to contact My Hero Studios directly.
4. Superman Family Portrait
If you want an art piece that's more family friendly, for less than $50 you can turn your boring family portrait into a Superman family portrait. Customize your superhero caricature any way you want. Other options include Batman, Spiderman, Wonder Woman, and The Flash.
This will really create a unique touch in your fortress of solitude!
5. Superman vs. Muhammad Ali Poster
This Superman vs. Muhammad Ali poster features the cover of the 1978 DC Comics oversize celebrity comic book. In the book, Superman teams up with heavyweight boxing champion Muhammad Ali to defeat an alien invasion. Due to delays with the publication of the book, Ali was actually no longer heavyweight champ by the time the book was released. Fortunately, he would take back the title later that year.
6. Superman Comic Book Panel Cabinet Art
The floor to ceiling cabinets in this room feature a large image of Superman swooping in to save Lois. The vintage artwork is taken straight out of a panel in a Superman comic book.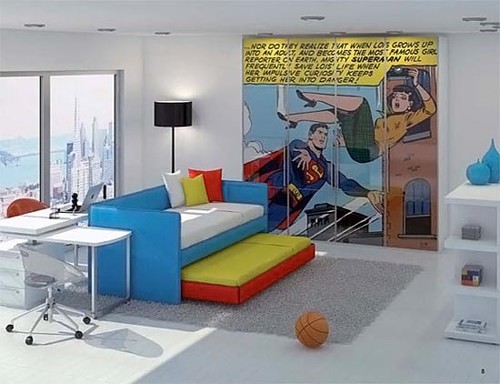 7. Superman And The Mole Men Movie Poster
Released in 1951, Superman And The Mole Men was the first Superman featured film. The movie starred George Reeves as Superman and Phyllis Coates as Lois Lane. The movie poster would look great up on the walls of any Superman man cave.
8. DIY Superman Logo Woodwork
If you're into woodworking and have a CNC machine, you can make your own Superman logos to add to your man cave. Fun With Woodworking provides step-by-step instructions that show you exactly how to complete the project.
The Superman "S" logo actually has an interesting history. While it would obviously seem to be the first letter of the superhero's name, it's actually pretty complicated. Xandra Harbet at Screenrant does a good job of explaining the Superman logo's confusing history.
9. DC Comics Justice League Superman PVC Action Figure
No Superman man cave would be complete without a Superman action figure. While this particular version isn't very valuable, it would still look cool on your shelf. And because you don't have to worry about it getting damaged, you can go ahead and play with it when no one is watching.
10. Custom Superman Bobblehead
If you think you're better looking than the Metropolis Marvel, you can turn yourself into a Superman bobblehead. All you have to do is upload a photo of yourself and choose the hair, eyes, and skin color. The custom bobblehead is available in several different sizes up to 14 inches tall. Check out MyBobbleHeadShop at Etsy for your own bobble head!
11. Telephone Booth Bathroom Door
Superman can get changed in a phone booth, so why not you? If you have a bathroom connected to your man cave, it's a fun idea to paint it like a red phone booth.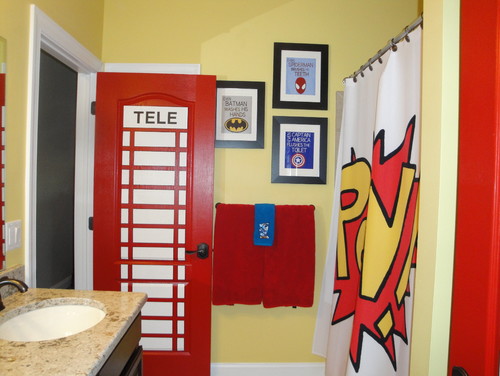 12. Red Telephone Booth
If a telephone booth painted door that leads into the bathroom isn't good enough for you, go ahead and get the real thing. Although it's a little pricey at around $3,000, it's the real deal. The Superman Privacy Booth has tempered glass windows and a full panel door, a high quality steel frame, durable powder-coated paint, a stainless steel shelf and a solid metal floor with mounting holes.
13. Action Comics #1 Reprint
Featuring the first appearance of Superman in 1938, Action Comics #1 is the holy grail of comic book collecting. There are thought to be only about 100 left in existence today after an original print run of 200,000.  An original Action Comics #1 sold for over $3 million in 2014.
If you don't have that kind of cash to spend on a comic book, an Action Comics #1 reprint is a little bit more affordable.
14. Superman #75 The Death of Superman
If you don't have millions of dollars and you don't want a reprint, Superman #75 The Death of Superman is an affordable alternative. With sales slowing, DC Comics decided to take a risk and kill Superman. Their gamble paid off as The Death of Superman received mainstream media attention and Superman #75 became the best selling comic book of 1992. Of course, Superman would make his return shortly afterwards.
15. DC Collectibles Lois Lane Statue
Lois Lane has been by Clark Kent's side since the very beginning appearing in Action Comics #1 in 1938. Based on DC Comics Bombshell variant covers, this officially licensed limited edition Lois Lane statue is beautifully sculpted and highly detailed. It would look great on the shelf in any Superman man cave.
16. Superman Bean Bag Chair
Where else would you find an adult size Superman bean bag chair other than a Superman man cave? Embroidered with the Superman logo, this bean bag chair would make a great addition to the room. Just don't forget the bean bag pellet filler.
17. Superman Trading Cards
If you've read some of our other articles, you'll know that we're a big fan of using trading cards to decorate your man cave. There a few different sets of Superman trading cards, but the cards that came out in 1980 for the release of Superman: The Movie starring Christopher Reeve are affordable and readily available on eBay. The cards below are Margot Kidder as Lois Lane and Christopher Reeve as Superman.
18. Superman Logo Neon Sign
Neon signs are a common sight in man caves. If you're going to hang one up, you might as well make it a Superman neon sign. The logo would look perfect hanging over your man cave bar.
19. Superman Flag
This heavy-duty Superman flag would look great up on the walls of your man cave. We wrote an article about how to hang a flag on the wall including a few ways to do it without damaging the wall.
20. Justice League Cork Coaster Set
Keep ugly bottle and can rings off your coffee table with this Justice League Cork Coaster Set. Featured logos include Batman, Wonder Woman, Green Lantern, The Flash, Martian Manhunter, Superman, Aquaman, and Cyborg.
Superman Man Cave
While the rest of your house might be more akin to a boring newspaper reporter than a flying superhero, your man cave can still make you feel like the Man of Steel. Hopefully, you were able to take away some inspiration and a few ideas to incorporate into your own Superman man cave.
"Look! Down in the basement!"
"It's a bird!"
"It's a plane!"
"It's a Superman man cave!"
See which Superman movie made our list of manliest movies.