If you are tired of reaching into a cooler just for a cool, refreshing beer while working on your car or bike, consider transforming your garage into a cool bar hangout. With a little time and effort, you can transform your garage into an all-in-one bar and workshop.
Garage bars are part throwback retro and part modern. However, they don't have to be bound by this type of decor. This living space can be rustic, contemporary, uptown, or rockabilly. It all depends on your personal style, what space is available, and if you have a detached garage or another type of space.
Cozy Country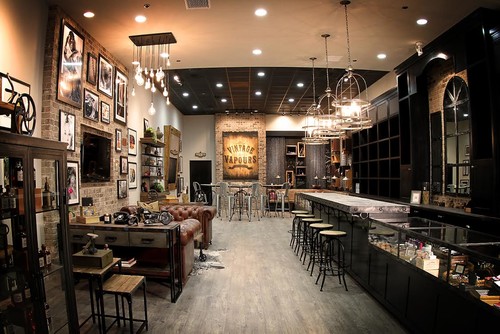 If country or rockabilly is more your style, you may want to consider the cozy country design. All things that need to be stored will be up high on sturdy shelves, leaving more floor space for the bar itself. This design also features simple wood paneling, as well as neon signs and banners decorating the walls.
You can also include shelves to store bottles behind the bar, as well as a mini fridge.
Ideally, the bar in your cozy country design will be made of a thick, rustic wood, with retro '70s-style swivel bar chairs flanking each side.
Half Garage Half Bar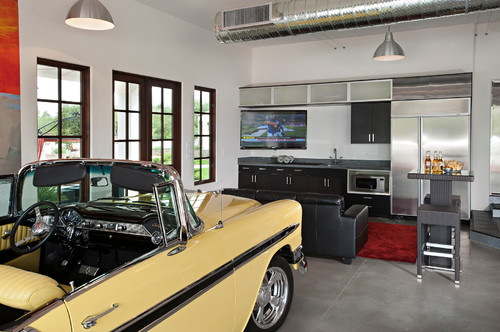 There are huge possibilities with this style! For this design, you will need a slightly larger garage but you can still park your vehicle inside while getting a little escape mancave. If you are lucky your water heater or washing machine will be either in the garage or sharing a wall with it so you can install a wet bar. Need to understand the differences between a wet and dry bar? Check out our article here.
Many garages don't have any air conditioning so this may be difficult for some. But if you go this route and want to use it all four seasons you could add a mini split ac and don't forget the insulation.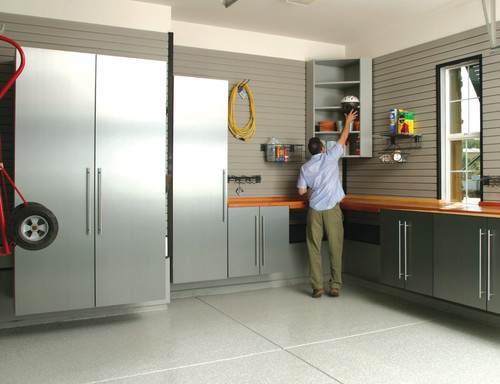 Also, one way to finish off your garage bar conversion is to add drywall and paint and you can even paint the floor to clean it up. You can use epoxy paint for the floor and brighten it up with a colored flake that matches the design of the bar.
You get man cave bonus points if you have a nice car to place next to your bar. There would be no better decoration you could have than an amazing car. In fact you could even build the theme around your vehicle.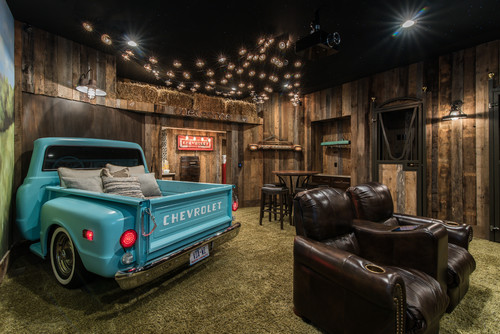 One cool look for a garage is to add the back of an old truck and make it the center piece of your garage bar. . All you need to do is remove the back of an old Chevy truck and add a wood countertop to it. Sand it, then stain it, and you have the perfect complement to your garage.
Another quick idea is if you have a Jeep Wrangler and take off the doors during the warmer months, bam! That becomes instant art. Check out offroaderX article on how to hang your doors.
Cozy on up to the Saloon
This style of garage bar will give your place a fun, western feel. To do this design, add two windows on the back of a garage for light. Also, you can install neon lights in each.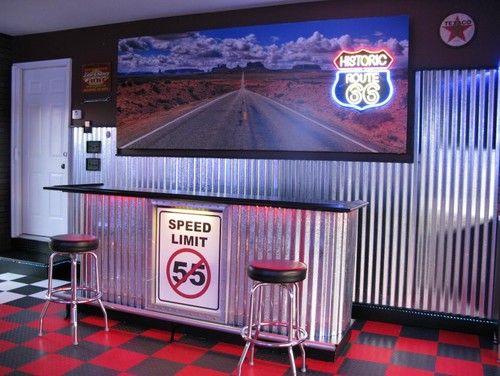 The back wall should also be done in a light, wood panel, jutting out into the bar area with a tin overhang and wood support posts. Make sure to include a saloon sign under the tin overhang, wooden wine barrels on each side of the bar, and a chalkboard on one side of the bar.
The bar itself should have a high glossed wood with a tin underneath. You can also tie the look together with wood accents the bottom of the piece.
Also, make sure to have the bar backlit with dim lighting, as well as plain wooden shelving, an industrial grilling area, a wet bar, a vintage white fridge, and an industrial chandelier.
Friendly Farmhouse
This bar, ideally, will have a few extras in it. The back of the garage should contain farmhouse wooden planks installed on the wall, running horizontally, and a bar with a black, granite countertop with wooden legs. Ensure the bar area itself is open as opposed to closed in, and have the chairs tucked in underneath.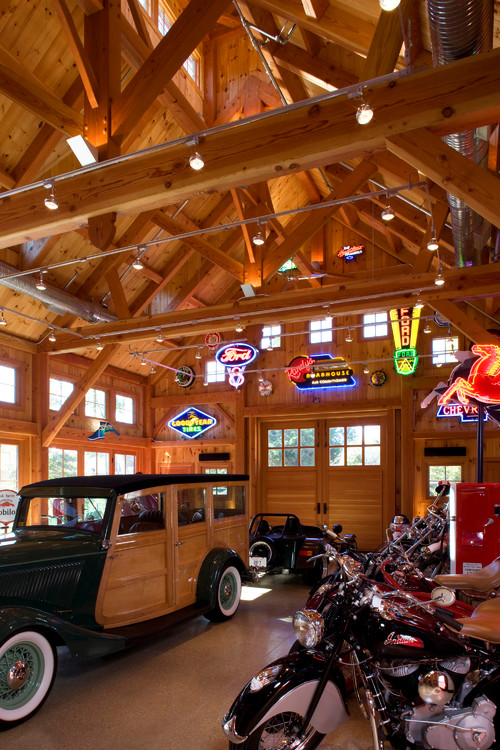 A friendly farmhouse style will also generally have a long shelf to hold bottles and a wooden cupboard for storage along the opposite wall. You'll also want the countertops to have the same granite with cupboards underneath for extra storage. Plus, this kind of bar will have a wet bar, a prep area for food, and a stove in one corner.
Ideally, the floor will be a medium grey slate. Above the wooden planks of the bar should be vinyl siding up to the ceiling to complete the look.
Simply Subtle
If you have a limited space in your garage for a bar, one can simply be installed in the back corner. To do this easy conversion, paint the back wall with a paint that you can write on with chalk. Your "menu board" can be written on it.
Find a large rectangular mirror and place it on the back wall. Use red lighting to backlight the bottom of the mirror and a large wooden bar to serve drinks. Pendant lights hanging overhead should complete the look.
Conclusion
There are many things you can do for a garage man cave bar. It boils down to how much space you have available and what you need to store. Plus, quite often, storage space can be incorporated into the decor as well.
Even in the smallest garage, you can still install a very simple bar. All you need is a bar, a fridge, and a sitting area. This is usually enough to create a distinctive area in which a man can hang out with his friends and enjoy a frosty beverage.
No matter what the size of your garage, you can still turn part of it into a bar area. Just make sure that, before you do, you invest in proper insulation, lighting, and a good electrical setup. This is usually the largest cost in converting a garage to a bar or man cave.
After that, it is all purely decoration.
So, before you begin decorating or putting in a bar, examine how much space you have and select the furniture accordingly. There is nothing more frustrating than finding that perfect piece only to discover that it simply does not fit.
Themes are fun, but they may not be entirely necessary. You can create a bar for your garage that has no theme. If it's functional, everyone can have fun using it.
For those who enjoy a theme or who want a theme, get creative about it. Choose one that reflects your personality. That way, it will always feel like your special space.