You don't have a sprawling mansion with a dozen empty rooms, but you've still managed to carve out a small space of your home for your man cave. Whether it's in the garage, shed, attic, basement, or spare room, small man caves are great places to get away and relax. While you're not going to have a basketball court in your man cave, that doesn't mean it can't be just as awesome.
If you're planning to set up your man cave in a room with limited space, check out these 18 small man cave ideas with pictures. We've divided the list into 6 categories:
space saving furniture
colors and lighting
creative storage
games and entertainment
panning tools
Think outside the box
Small Man Cave Ideas – Space Saving Furniture
The biggest space-eater in any room is the furniture. If you want to make more room in a small space, first take a look at the furniture. Smaller pieces, items that can be stored away when not in use, and furniture with storage can all go a long way.
1. Loveseat
The best and most obvious place to start when you want to add more space to your man cave is the couch. Be honest, how often do you have more than one or two friends over to hang out in your man cave? If it's not very often, then you probably don't need a sectional couch.
Just because it's smaller doesn't mean it has to be boring. The Signature Design by Ashley Game Zone Loveseat is perfect for a small man cave. It features two power recliners, storage armrests, a storage middle console, cup holders and a USB charger.
2. Wall Mounted Drop Down Table
If you have a table that is taking up too much space in your man cave, a wall mounted drop down table is a great space saving alternative. Open it up when you need it, and fold it back down to take back some space.
Pro Tip: Remember to locate this table on the studs of your wall or else you will have drinks everywhere on the floor as soon as someone puts their weight on it.
3. Trade a Bar for a Bar Cart
Most guys want a bar in their man cave, but if you don't have enough room to build your own bar you can use a bar cart. A bar cart takes up a lot less space and can be wheeled out of the way when not in use.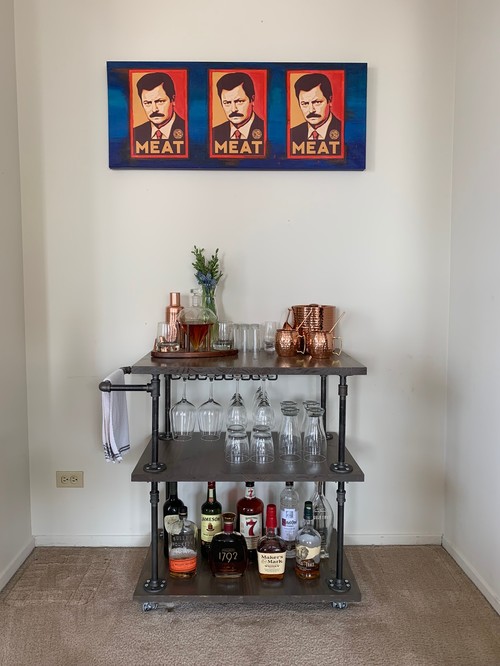 Here are some other options we found that are available now:
The key to these bar carts are the wheels! As parties in your man cave evolve you can wheel these around to different parts of your cave for unlimited versatility.
4. Put Your Whole Bar on Wheels
Our next entry on the list combines the previous two. If a basic bar cart doesn't suit your needs, how about putting an entire bar on wheels? Sure it's small, but it takes up the same amount of space as a bar cart and it even comes with stools that store away underneath when not in use.
In addition to the stools, the bar includes two drawers for storage, a paper towel holder, a drop down leaf table top, and caster wheels. The creative design is space saving furniture at it's best.
5. Coffee Table with Storage
Depending on your set up and how much you actually use it, you may be able to do away with the coffee table all together. Most coffee tables just take up space and are only used as foot rests.
However, if you want one, make sure to get a coffee table with storage. Clutter can quickly become a problem in small spaces, so having some place to put all the stuff that accumulates is a big plus.
Small Man Cave Ideas – Colors and Lighting
The color scheme of a room can go a long way in making it feel bigger than it really is. In general, you want to keep colors on the lighter side so your man cave doesn't end up looking like a dungeon. The lighting in the room is also important to make the space feel more open.
6. Paint the Walls White
While there is some debate in the design community, the general consensus is that painting the whole room one shade of white will make a small space feel larger. It doesn't have to be pure white, but something in the white family is best.
After you pick a color you'll also have to decide on the type of finish. There are 5 different paint finishes: matte, eggshell, satin, semi-gloss, and high-gloss. The satin finish right in the middle is the most common paint finish for interior paint, and works just fine in a small room.
You may also want to consider lightening up the floor color if you have dark floors simply by using a lighter colored area rug.
7. Let in Natural Light
In addition to light colored walls, letting in some natural light is a great way to make a room feel bigger. While we know there are not going to be windows in every man cave (it is a cave after all), if you do have windows make sure they aren't covered up by furniture.
8. Mimic Natural Light
If your man cave is in the basement or some other location that doesn't get much natural light, you can mimic the sun's natural light with daylight light bulbs. These bulbs are a great way to really brighten up dark spaces.
Creative Storage
To make a small room feel less cramped you should try to get rid of some of the things that you don't really use. However, that doesn't mean you don't need some good storage. We've already taken a look at some creative storage built into furniture, but here are a few more options.
9. Corner Shelves
Corner shelves make a good use of limited space. Chances are that at least one corner of the room is not being used. Adding a corner shelving unit is an easy way to add additional storage and display space for smaller items.
10. Ladder Shelf
Large boxy shelving units can take over a room and make it feel even smaller than it already is. Look for ladder-style shelves that are wider at the bottom and narrower at the top. While these shelves may not provide as much storage as a bigger shelving unit, it will make the room look bigger and maybe even force you to get rid of some clutter that you don't really need.
11. Ceiling Storage Rack
If you're strapped for space, there's a good chance that you'll be moving your man cave into an area of your house that is currently being used for storage. Whether it's the basement, garage, or attic, a ceiling storage rack will allow you to move the storage up top to clear some floor space. It's perfect for storing things out of the way that seldom come out of storage like holiday decorations and your wife's wedding dress.
Games and Entertainment
Just because your man cave is tight on space doesn't mean you can skimp on the entertainment. It's always a good idea to incorporate some games into your man cave. You just might have to get a little creative.
12. Mirror TV
A large flat screen TV in almost any room makes itself the focal point. Having a large flat screen TV in a small room will definitely make it the center of attention. That's not necessarily a bad thing especially if you plan to use your man cave to watch movies and sports or play video games.
However, if you'd like to be able to make your TV disappear when it's not in use, consider a vanishing mirror TV. When it's turned on, it looks like a normal flat screen TV. When it's turned off, it looks like an ordinary mirror. Of course, mirrors are another way to make your room look bigger. Plus, it's just a really cool piece of technology.
13. Mount Your TV to the Wall
Whether you opt for the mirror TV or not, you should absolutely mount your TV to the wall. This is a super easy and inexpensive way to get rid of that bulky media center and free up some more space in the room.
14. Super Retro Game Console
If you're a retro gamer, you probably have dozens or hundreds or video games cluttering up your space. Well, you can move them all back to storage. The Super Retro Game Console emulates the Super Nintendo and comes with 821 different games pre-installed – no cartridges necessary. The best part? It has an HDMI port that allows you to hook it right up to your TV and start playing.
15. Multi-Game Table
If you have a small man cave, you probably think that having a pool table is out of the question. Think again. Not only can you have a pool table, but you can also have a ping pong table and an air hockey table. At just over 7 feet long, the Fat Cat multi-game table let's you play all 3 games in a small space.
To be upfront, it's not going to be the same as playing on a standard pool table. But you have to work with the space you have, and a great way to do that is putting things in the room that have multiple uses.
By the way, the Fat Cat table wasn't even our pick for best multi-game table. To find out our top pick, check out 5 of the Best Multi-Game Tables.
Small Man Cave Ideas – Planning Tools
By now you probably have some thoughts on what you want to include in your man cave and how you want to set it up. But even if you take measurements, it can be tough to visualize. The following online tools will help you visualize the perfect man cave that you've dreamed up.
16. Online Interior Design Room Planner
The free Floorplanner online interior design room planner is an easy to use tool to create floor plans online. It lets you set the size of your room and then furnish it with a selection of over 150,000 items. Importantly, the tool allows you to resize any item to its exact real world dimensions so you can see how it will fit in your man cave.
17. 3D Rendering of Your Man Cave
Once you have the floor plan of you man cave, you can turn it into a 3D rendering. For $10, you can preview exactly what your man cave will look like when it's finished.
Think Outside the Box
A lack of space is never a good excuse to forgo a man cave. Sometimes you just have to think outside of the box… literally.
18. Move Your Man Cave Outdoors
If you don't have space in your house for everything you want in your man cave, you can build one outside. There are outdoor versions of almost everything that you could want including TV's, pool tables, and ping pong tables. Depending on where you live, you may be able to hang out there all year round, but in most places, you'll get at least 6 months of use.
Small Man Cave Ideas Wrap Up
It's a good idea to plan out how you want to use the space in any room, but it's even more important in small rooms. It doesn't have to be perfectly Feng Shui, but just putting a little thought into how you want to set up your space can make a big difference. Depending on your specific situation, we hope that you found at least a few of the above ideas useful for your own small man cave.