Even before 2020 forced people to stay home, working from home was becoming more common. Like your man cave, your home office should be a space that you don't have to share with anyone else. If you don't have enough space for separate rooms for your man cave and home office, combining them into one room is a great use of space.
Creating a man cave office is about keeping all the favorite parts of your man cave, while incorporating the furniture, supplies, and equipment that allow you to work from home. If you are interested in working from your man cave, check out these 18 man cave office ideas with pictures.
1. The Dude Buddha Statue
Work can be stressful. Take a cue from The Dude and relax. The Dude Buddha Statue is a perfect man cave office decoration for fans of the 1998 cult classic movie The Big Lebowski. The 3D printed statue is available in sizes from 2 inches to 12 inches, so you can keep it on your desk to remind yourself to let go of the stresses of work.
2. Billiards, Table Tennis, Dining Table Combo
The Atomic 7′ Hampton 3-in-1 Combination Table includes billiards, table tennis, and a dining table with dual storage bench seating all in one. There's a good chance that you're working at your dining room table when you work from home. Why not get one that converts into a pool table or ping pong table when 5 o'clock rolls around?
For more multi-game tables check out our article on the best multi-game tables for your man cave.
3. Star Wars Home Office
Also featured in our Star Wars man cave article, this home office in a galaxy far far away is the apex of man cave offices. From a custom made desk, to an Italian rocker chair that could be straight out of the movies, to the floor slabs that were custom cut to mirror the chess table on the Millennium Falcon, everything in this home office makes it one of a kind.
This is a great example of a man cave office that seamlessly combines the two into one. It is equal parts work and play at the same time.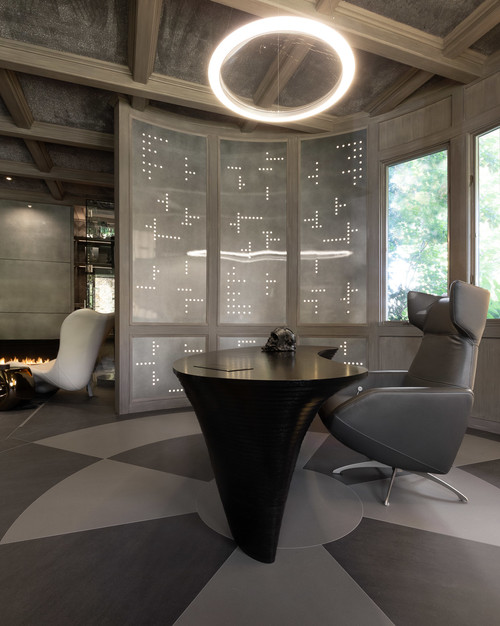 4. Darth Vader Pen Holder
If you like Star Wars, but you're not into it quite as much as the guy above, a Darth Vader pen holder may be more your speed. Never lose another pen and feel like a Dark Lord every time you have to write something down.
5. Wall Mounted Fold Up Desk
If you want to be able to forget about work at the end of the day and just relax, a wall mounted fold up desk is perfect. You can easily fold out the desk each workday and fold it back up at the end of the day to forget about work. This is especially useful if you have a small man cave.
One caveat – the fold up desk is really only a good option if you work from a laptop. Setting up and taking down a desktop computer every day seems like too much work.
6. DIY Hidden Printer Storage Desk
In line with the fold away desk, this desk has a built in cabinet that hides your printer when it's not in use. Learn more about the desk from self-taught carpenter Jen Woodhouse. There you will also find a link to download the full building plans that you can use to build one for yourself.
Be sure to check out #15 on the list for the ultimate hidden storage idea.
7. Steampunk Desk Lamp
Replace your boring desk lamp with this steampunk desk lamp. While the lamp has an old industrial style look, it also has type-C and USB ports to keep your modern devices charged. The vintage style desk lamp is meant to be used with Edison light bulbs and has 3 level brightness touch controls.
For more lighting ideas check out 20 Unique Man Cave Lighting Ideas with Pictures.
8. Under Desk Walking Treadmill
One of the many advantages of working from home is that you get to do things that you would never be able to do in a office setting. While I'm sure that it's acceptable at some Silicon Valley startups, under desk walking treadmills are not typically something that would be allowed at your cubicle. Walking treadmills let you burn some calories while you get your work done.
If you need more of a workout, check out our guide to building a home gym and get a full workout in during your lunch break.
9. Mini Bar or Liquor Cabinet
In movies and TV all the hotshot lawyers and executives seem to have mini bars in their offices. For 99% of us, that's never going to be a reality. But when your office is in your man cave, it almost seems wrong not to have a place to store alcohol. Whether you drink beer, wine, or whiskey having a mini bar in your office actually makes it more classy… according to TV at least. This globe wine and liquor stand adds a little style as well.
10. Hand-Carved Solid Mahogany Throne Chair
Sure you could run down to Walmart and get a cheap office chair, but what fun is that? This Hand-Carved Solid Mahogany Throne Chair is sure to turn some heads on the dozens of Zoom calls you're forced to sit through each week. Don't sit in a boring office chair, sit in a chair fit for a king.
11. Highly Carved Mahogany Executive Pedestal Desk
If you opt for the throne, you don't want to be sitting behind a folding table. Get yourself a matching desk like this Highly Carved Mahogany Executive Pedestal Desk available for just $76,600.
But seriously, if you want a nice piece of furniture take a look online at eBay, Craigslist, and Facebook Marketplace. Or by going to estate sales, flea markets, and thrift shops. These places all have furniture that people are just looking to get rid of and you can find some really good deals from time to time.
12. Custom Wall Mural
What's in the background of a person's Zoom calls can say a lot about them. Stand out from everyone else and get a custom painted wall mural for your man cave that can double as your backdrop on work calls. If you own your own business, you can get your company logo painted on the wall. The awesome space mural below was created by Salcreations. Follow salcreations16 on Instagram for more ideas.
13. Victrola Bluetooth Record Player
Another advantage of not working in the office is you don't have to wear your headphones to listen to music. Enjoy your favorite music while you work with this Victrola Bluetooth Record Player. This 6-in-1 device lets you play vinyl records, CDs, tapes, wirelessly play music from your Bluetooth enabled device, and has a built in AM/FM radio.
14. Built In Book Shelves
If you are going for a traditional den or study look for your man cave office, built in book shelves are a great idea. They are also a great way to display your favorite books and collectibles.
15. Hidden Bookshelf Door
If you're going to have built in bookshelves, you should probably have a hidden door. Depending on what your setup is like, you may be able to have the door open to a whole new secret room – maybe your very own Batcave. But if you don't have the space, it still makes a cool secret storage compartment.
If you have a little bit of DIY ingenuity, you can make one yourself. You can use the InvisiDoor Hinge Hardware Kit to build hidden bookshelf doors.
16. Work From Your Couch
If you have to work all day, you might as well be comfortable. This lift-top coffee table extends over your lap so you can work from the comfort of your couch. Open shelves and a compartment under the table-top give you additional storage.
17. Build Your Own Stonehenge
Bored sitting at home all day listening to meetings about TPS reports? Kill some time by building your own Stonehenge replica on your desk. While the construction of the actual monument spanned millennia, yours can be ready to go in a few minutes (and without any extraterrestrial help).
18. Dwight Schrute Motivational Quote Poster
You are going to face some tough times at work. Let this Dwight Schrute motivational quote poster help you get through them. This poster makes the perfect addition to a man cave office for fans of The Office.
"I am ready to face any challenges that might be foolish enough to face me." – Dwight
Man Cave Office Ideas
Some are more practical than others, but hopefully you were able to get a few ideas on how to make your man cave office better.
You may be hesitant to bring your work life into your place of relaxation. However, if done the right way it can significantly improve the experience of working from home without taking anything away from the enjoyment you get out of your man cave. Just make sure you don't have that Sports Illustrated swimsuit model poster in the background of your Zoom meetings.