Basement offices are different from traditional home offices. They offer more seclusion and privacy than other home offices but sometimes that can come with a price. But with the right ideas you can create an office that you can thrive in as well as relax in!
In creating this type of space, you begin by designing a man cave that doubles as a home office. Individuals will require items associated with a man cave, but they'll also need office equipment and furniture to see their home office ideas come to life. The best way to do this is to create your office man cave in your basement. Having your basement office double as your basement playroom – or however you want to design your man cave – will give you the independence and personality that you crave within your living space.
Differences Between Designing a Home Office Versus a Man Cave
Man caves are usually associated as a dedicated place for men to relax and have fun, like a media room or a basement bar. They serve recreational purposes. Man caves may have a sports theme, video game theme, or they may be retro, but they always center around a man's tastes. Family members do not usually have any input in this space.
Home offices, on the other hand, are seen as dedicated spaces wherein a person can work from home.
Men who may not have a great deal of space may combine the two areas to serve a dual function. They have one area dedicated to "play" and the other for work. This blends an office with the tastes of the man cave, thereby creating one complete area.
How do you Combine One Room That Serves Two Vastly Different Functions?
In short, how do you successfully combine work and play areas? Moreover, how do you ensure that work gets accomplished when there are so many distractions?
Those who work from a home office are well-acquainted with the importance of separating dedicated work and play areas. Each room has a separate function and mentality when you are in it. However, this doesn't mean that a home office must be sterile and boring to be productive. It doesn't have to mirror a corporate setting.
Creating a man cave/office combination provides the opportunity to work at home in an area that feels separate from the home environment but feels unique to your personality. This is why setting up a basement home office in your finished basement, and combining it with a man cave, is such an effective idea. The combination allows you to have the peace and quiet you require to do your job while allowing you to transform your basement space into a place to play, whether you choose to install a wet bar or a wine cellar, or you'd rather have your own basement playroom.
The difference in a man cave and a man cave office boils down to design. Your basement design can mimic man cave themes, but, overall, it's a bit different so the theme is cohesive.
Below are some ideas for your basement office/man cave office.
Steps to Building Your Man Cave
1. Create an Ideal Space
When designing your basement home office, consider how it will look with a desk. This is the main piece of furniture in any office space. Individuals will need adequate desk space to effectively work. The overall design and setup need to center around this piece of furniture.
Conventional desks can be used. However, this is a man cave, so the more unique the better when it comes to design. It needs to be special to create that man cave experience.
While you don't have to be overly creative with your desk, you can be a bit more creative in designing the area for the man cave space. The work area needs to feel like a separate entity from the man cave component. It also needs to be more distinctive over your work office as well as the rest of your home.
If you want to be creative with the design of the desk, make sure it isn't too far away from traditional office designs. Functional and ergonomic should be the focus over creativity.
The goal is to be imaginative so that it blends with the rest of the room but also creates a separate work area. Remember this is your time to make work feel like not work. There is no boss to tell you what to do or how to design your office so make it comfortable for you. But, just remember that video conferencing is a way of the future so be sure to make your space look clean and tidy so your video calls show that you are not a slob!
2. Utilize Creative and Flexible Furniture Designs
Even though the primary purpose is work, you may want to use it for other things. The way to accomplish this is to select office furniture that can be used for play.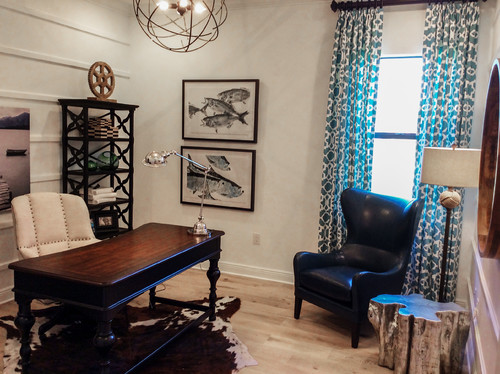 While, depending on the need, it may not be entirely possible if you have dual monitors or other electronics, you can still get creative with other aspects of the design.
The seating can double as an office chair and a recreational chair. Make sure the design combines with the feel of the man cave and that it is more fun than corporate. It should complement the design of an existing man cave without drawing excessive attention away from the remaining room.
You can also add additional seating for when friends are over or when you are not at your desk. Couches or comfortable chairs are easy to add, and small tables take away from that office feel.
Make the furniture arrangements unique, as this will improve the appearance of the man cave office.
3. Ensure it Isn't Just Another Basement Home Office
Items that are for play should be added to the area, or things that look like they're for recreational usage should be added. Add items such as:
Flatscreen television set
Couch
Music systems
Reading area
Gaming consoles
Musical instrument area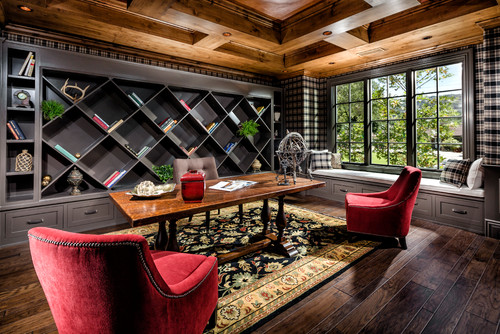 You can use anything that is associated with your personality or hobbies. This area should reflect you as a person. The key to the design is to create a space that you can forget about working in.
Place things that are relaxing in the area. Select items that you would put in a recreational area over an office. If you see it as a man cave first and office second, your design will be perfect. Always make sure you leave enough room for the office components, though.
4. Adding a Personal Flair
The home office man cave and a typical man cave have similar components. The man cave office needs to be relaxing to the user, and it should be reflective of your tastes. It needs to feel like your space, and the decor needs to indicate that.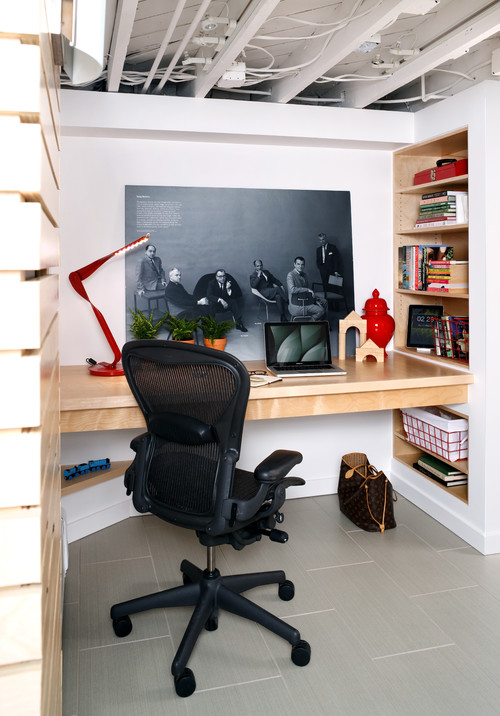 The area should have things that are meaningful to you. Accessorizing it should be the most exciting part. Add items that make it special.
A few ideas to spice things up may include:
Adding an art collection
Adding your favorite sports items
Adding personal memorabilia
Adding things attached to your hobbies
Tying in your interests
You can add things from stores or from your own collection. Also, feel free to check out garage sales or things on the internet. There are many great items that you may find valuable.
5. Converting Outbuildings
If your man cave office is in an outbuilding, such as a garage or a shed, make sure that it is protected from groundwater seepage. Weatherproof the building inside and outside. Ensure there are proper connections to utilities.
Not only will you need electricity in this area, but you will also need internet connectivity. If the area is close to the house, a signal booster or a repeater may be all that you require. It will expand the Wi-Fi coverage. If it is further away, you may need to have a connection installed. The cost is inexpensive unless you need a dedicated line.
6. The Man Cave Office Should be Well-lit
Users do not want to have eye strain because the office is too dim, which can especially be a problem in a finished basement. Additionally, computer screen glare can also be an issue. Make sure the area is well-lit so that you don't get a headache or damage to your eyes. A cool look isn't worth the physical pain or complications down the road.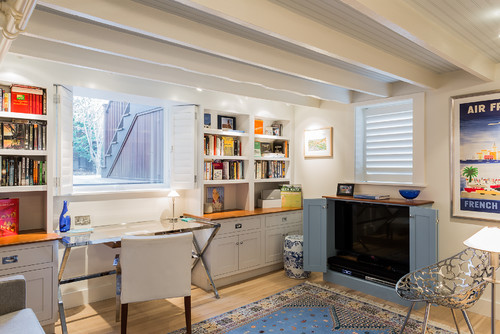 Locate the man cave office in a place with a good deal of natural light. If this isn't possible, install additional windows. Use bulbs that are similar to natural light. Some man caves use SAD lamps, which are like natural outdoor lighting.
Even if you don't suffer from seasonal affective disorder, these lights will keep your room well-lit and provide a suitable working environment.
Why a Man Cave Office in your basement?
A man cave basement office allows you to take brief breaks and just enjoy a space. Frequent breaks are shown to boost productivity.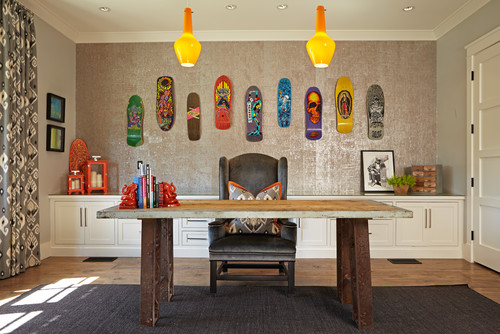 The benefits of having a man cave office are as follows:
Own space that is central to your interests or hobbies
Dual space for work and fun
Private area
Functional yet fun working environment
Area to relax and work
A space to also entertain friends that is more than just office space
There are drawbacks to this as well. They include:
If work is exclusively from home, then the space may be too casual for client meetings
It requires a larger space to accommodate dual functions
More expensive than creating an office space
Friends may damage office equipment
May feel more like playing over working
If long hours are worked, the areas may feel more like an office and less like a recreational area
The cost of a man cave varies. You can do a man cave on a tight budget, especially if you have the items already. It is usually the office furniture that may have the highest cost. The cost will also be determined by location and what you need to do to the space in order to get it ready. The costs of installing a man cave in an unfinished basement may be prohibitive.
To cut down on expenses, you can source things from thrift stores, online, or garage sales. It is surprising as to what you may find, and there is also the thrill of the hunt. It can be a lot of fun searching for things to add to your special area.
Whatever theme you decide for your basement office we hope these ideas have helped. Have fun with it and get creative. It's yours to design!
If you need some office theme ideas check out our article on office theme ideas!